 The Extremely Rare One Of A Kind Custom Beaver Marquis Amethyst
This is the profile of one of the most dominating quality coaches on the road. There is not another nicer example of a 2004 Beaver Marquis.
Discover
Story
The Beaver Marquis has long been recognized as one of the most luxurious motor coaches ever built and often referred to as the "Crown Jewel" of the American highway! This was the last production year for the Marquis at the original Beaver production facility in Bend OR and marked the end of the "real" Marquis with its stunning wood cabinetry and striking interior elegance. After production was moved to the Monaco plant in Coburg OR in 2005, the Marquis lost much of its charm and heritage and before long the Beaver Marquis simply became another high end Monaco model.In 2004 the Marquis was offered in a variety of floor plans and configurations starting with the 2 slide 40' Jasper & Ruby models, followed by the 2 slide 42' Amethyst with its mid entry option, then came the 2 slide 42' Emerald followed by the 42' 3 slide Garnet, the 42' 4 slide Topaz and lastly the 45' 3 slide Sapphire. This model is the 42' 2 slide Amethyst with its unique and highly sought after mid entry configuration, please see floor plan on the next page.The Amethyst, as with the other Marquis models is constructed on the fabulous proprietary Roadmaster Magnum Series Chassis with its 10 large airbags set outboard of the chassis rails for stability and providing one of the most comfortable rides in the industry. The Bendix hydraulic over air disk brakes front and rear provide a great sense of security when you step on the brakes and will bring this majestic coach to a stop as though you were driving a much smaller vehicle. The coach is powered by a CAT C-12 engine producing 505-HP and a whopping 1,850 lbs-ft torque, its simply amazing how fast this coach will accelerate when needed or when climbing long mountain roads.With only 47,000 carefully driven miles and three discerning owners this coach is in pristine condition inside and out. Always stored inside when not in use the full body paint is like new with no blemishes to be be found. The interior is simply stunning as you will see from the photos below, the combination of the natural maple cabinets with Mappa Burl Inlay door and drawer fronts, creamy ceramic tile floor, rich warm fabrics and halogen lighting all combine to create wonderful casual elegance! Enjoy your tour of this incredible coach, whether you are thinking of going full-time RV-ing or just weekend jaunts, we think you will agree this coach is simply an amazing home on wheels.
---
Discover More About The Beaver Marquis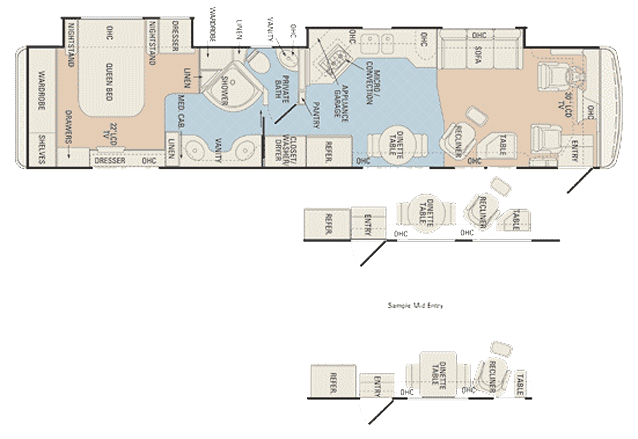 Additional Equipment & Specifications
The Only Mid Entry Beaver Marquis Made In 2004!
Amethyst Floor Plan
This is the custom Amethyst floor plan, please note drawing showing the extremely rare mid-entry configuration and rectangular dining table option. Only one coach of the 52 made that year had mid entry. Custom made for the first owner.
Original cost for custom build plus extras was just shy of $550,000.
Resources
Download
1. Click here to download the original Bill Of Sale
2. Click here to download the current value range from the Nada Guide
3. Click here to download the original Beaver Brochure
Specification
Full Specs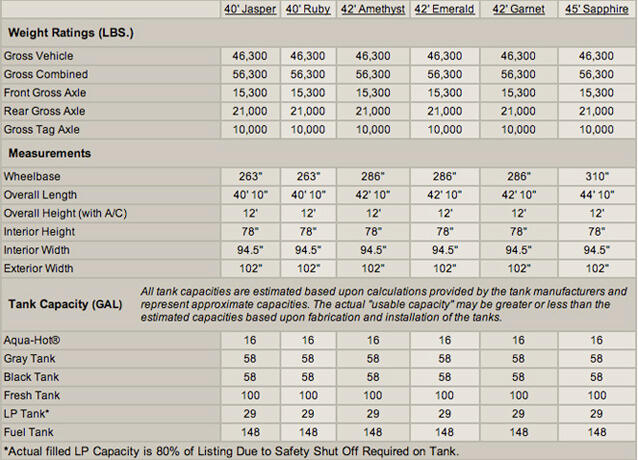 Equipment & Specifications
Aluminum Superstructure

Seamless One Piece Fiberglass Roof

High Gloss Fiberglass Sidewalls

Fiberglass Front and Rear Caps

One Piece Windshield

Triple Head 3-way Power Heated

Mirrors

Roof Mounted Air Horns

Aluminum Baggage Doors with Power Locks

Storage Bays Extend with Slide-Out

Full Length "Beaver" Mud Flap

Deluxe Full Body Paint

Rear Ladder

Power Sun visors

Rear Vision Color Monitor & Camera

Aladdin Video Coach System w/ Security Cameras

AM / FM Stereo w/6-Disc Changer

Adjustable Accelerator and Brake Pedals

Power Step w/Air Actuated Pwr Stepwell Cover

Power Footrest on Co-Pilot Seat

Four Door Refrigerators with Ice Maker Recessed Two Burner Cook top

Convection Microwave Oven

Bose Home Theater System w/DVD Player

32" LCD HDTV in Living room

30" LED HDTV in Bedroom

Bose Bedroom Radio

Stereo VCR
Fully Automatic Digital Satellite

Universal Remote Control

High Gloss Euro-Finish w/Exotic Wood

Solid Wood Raised Panel Cabinet Doors

Solid Surface Kitchen Countertop &

Solid Wood Dinette Table

Two Dinette Chairs & Two Folding Chairs

Ceramic Tile in Kitchen &amp Bathroom

Sculpted Carpet in Living Area

Solid Surface Shower Enclosure

Padded Fabric Ceiling & Wall Treatment

Padded Fabric Ceiling & Wall Treatment

Roman Shades in Living room & Bedroom

Pleated Day Shades in Living Area & Bedroom

Black out Shades in Bathroom

Ultra Leather Euro Recliner w/Ottoman

Fabric Sofa on Drivers Side

50 Amp Power Distribution Center

12.5kw Diesel Generator on Power Slide

2500Pure Sine Wave Inverter

Two Solar Panels w/ Regulators

Six 6-Volts Deep Cycle House Batteries

Decorative Lighting in Bedroom & Living Areas

Manifold Water Control System

Insta- Hot Water System

Insulated Systems Compartment

China Toilet (With BIDET – Yes this Coach even has a bidet!)

Lighted VIP Smart Wheel w/ Two-Tone Leather

(3) Low Profile 13.5 Ducted A/C w/heat Pumps

Water Sprayer in Outside Bay
Ultra Leather Power Pilot & Co-Pilot Seats

Aqua Hot Water System

Water Purifier in Ice maker

12V Attic Fan w/Wall Switch in Kitchen/Bath

Flush Mounted Dual Pane Tinted Windows

Keyless Entry System with Remote

Girard Automatic Patio Awning

Slide-Out Topper Awnings

Window Awning

Roadmaster M-Series Chassis

Cat C-12 505 HP Turbocharged Diesel Engine

Allison 4000-MH 6 Speed World Transmission

295/8OR/22.5 Radial Tires

Alternator 160 AMP

Combination Washer/Dryer

Cushion Air Glide Suspension

(10) Air Bag & (10) Shock Air4 Suspension

Dual Air Disc brakes, ABS Equipped

Jacobs Engine Brake

Hydraulic Leveling System

10,000lb Hitch Receiver

CB Radio with Antenna

New Emissions Engine

Bedroom Entertainment MQ-4

3M Front Mask Marquis

Dual Leveling Sys (SIR/HYD) M

Baseboard Heater MQ-4

In-Motion Satellite Tracstar

Central Vacuum System W/Storage Under Bed

Security System through Back-up Camera

In-line Surge Protector after transfer relay

Natural maple desk for Passenger side on dash
Extras
Additional Items
This coach also has been upgraded with a custom iPad GPS Navigation & RV App System. The system was custom made just for the Beaver Marquis. No other coach has this system. Installed with aircraft aluminum support mounting system (same one police and pilots use).
Additional Equipment & Specifications
Safe T Plus Steering Control
The Marquis has been upgraded with the Safe T Plus Steering Control for RV's allowing for extra safety and effortless driving. The installation was done my the #1 installer in Arizona along with a full wheel alignment for absolute straight driving and reduced tire wear.ARVE Error: Mode: lazyload not available (ARVE Pro not active?), switching to normal mode
Additional Equipment & Specifications
Original Quick Start Guide
The original Beaver Marquis quick start DVD has been custom converted to digital format and uploaded to YouTube. This allows for you to begin your ownership journey effortlessly on your mobile devices such as the iPad or iPhone.ARVE Error: Mode: lazyload not available (ARVE Pro not active?), switching to normal mode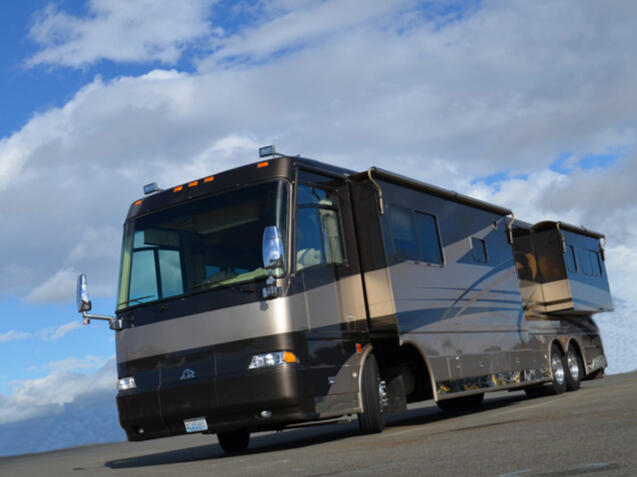 Gallery
See The Full Photo Gallery
This coach also has been upgraded with a custom iPad GPS Navigation & RV App System. The system was custom made just for the Beaver Marquis. No other coach has this system. Installed with aircraft aluminum support mounting system (same one police and pilots use).
Get In Touch
Contact Us
This website was created to help educate future owners about the Beaver Brand. We are located in the Vancouver, BC area. We are in the PST (Pacific Standard Time) zone. Feel free to call Brent & Sandra or connect with us anytime with any questions.